When we saw ISSA for the first time from a bird's-eye view, we were at the same time overwhelmed with a sense of excitement and we felt a sort of a "Fitzcarraldo" moment.
That excitement about the progress we have made in only a few months – cleaning the terraces and above the house seems like a micro-step, but for us it could be described as a "Fitzcarraldo" moment – well, you know that epic adventure movie by Werner Herzog with Klaus Kinski transporting a steamship over a hill with a dream of building an opera house in the Peruvian Amazon.
From a bird's-eye perspective, the proportions of our endeavour became even clearer: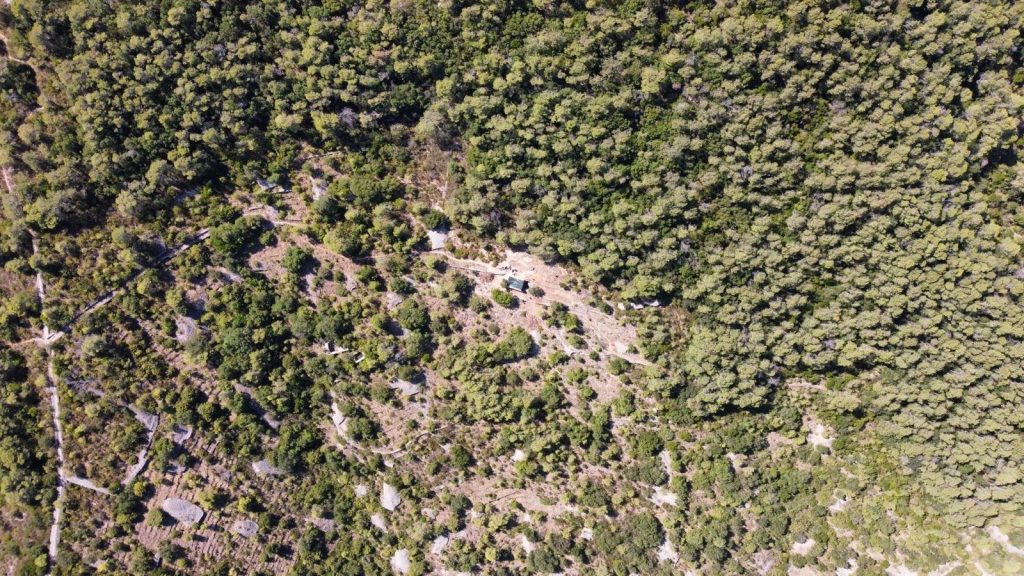 What you can see beneath the house is the so-called "Sinov Dolac" or "Snova Dolca", in translation "Son's Valley" or even "Dream Valley," but there are also other interpretations that point towards the meaning of the ancient Greek word "xenos" (guest), linked to the concept of hospitality.
We have been exploring the area, breaking through thickets of plants, and collapsed dry stone walls, losing ourselves in nature that, in the absence of humans and human activity, once again took over the hill and valley where future ISSA is being born.
But as much as you wander around – and it takes a lot of time and resourcefulness, both of which we have plenty of – you can't really get the whole picture. You can, of course, smell and find various sorts of plants, touch different trees, and lose any conception of time. You can figure out where dry stone is leading and what the functions of the overall composition of this traditional Mediterranean architecture are, but you are still in the midst of a jungle without having an overview of the terrain.
You can slowly decipher this hundreds-of-years-old composition if you look at it from a bird's-eye perspective. What you can see now is not only the old stone house, our future library, and social centre; suddenly there is a whole village emerging, with the dry stone walls serving both as boundaries between terrains, protection from winds, and as pathways through which various houses were connected.
According to the islanders, those who worked in "Sinov Dolac" as children, this entire area was once covered in fertile vineyards that were last cultivated 60-70 years ago. Each stone wall tells a story of human persistence and determination in realizing the dream of turning this inaccessible part of the island into a fertile land that will feed generations.
This connection, as well as the history of this land, seem appropriate to us. Our dream as well, even if it takes decades, is not short of this ambition.