September 7-10 / 2023 / ISSA
Day 1
A tour marking the 80th anniversary of liberation from fascism
Antifascist tour with Bruna Bebić, Srećko Horvat and a wonderful audience gathered at "Muster" to commemorate the 80th anniversary of the liberation of island Vis – and the rest of Dalmatia, Istria and Primorje – from fascism. We visited the grave od Nikola Marinković-"Top", a local hero who died from the bullets of the fascists, we also visited the ruined fish factory "Neptun" where we explored the women workers struggles, and many other locations.

Day 2
Franco "Bifo" Berardi: "How will we live?"
On day two, our dear friend and co-founder, Franco "Bifo" Berardi held a lecture at the European Center for the Study of War and Peace in Vis. It was full house at Vukašinović/Dojmi de Lupis Palace with many visitors and many questions, and we plan to continue with such philosophical lectures and investigations on the island Vis centered around the question what is "good" and "happy life" in times of extinction.
Soon we will upload all lectures to our site.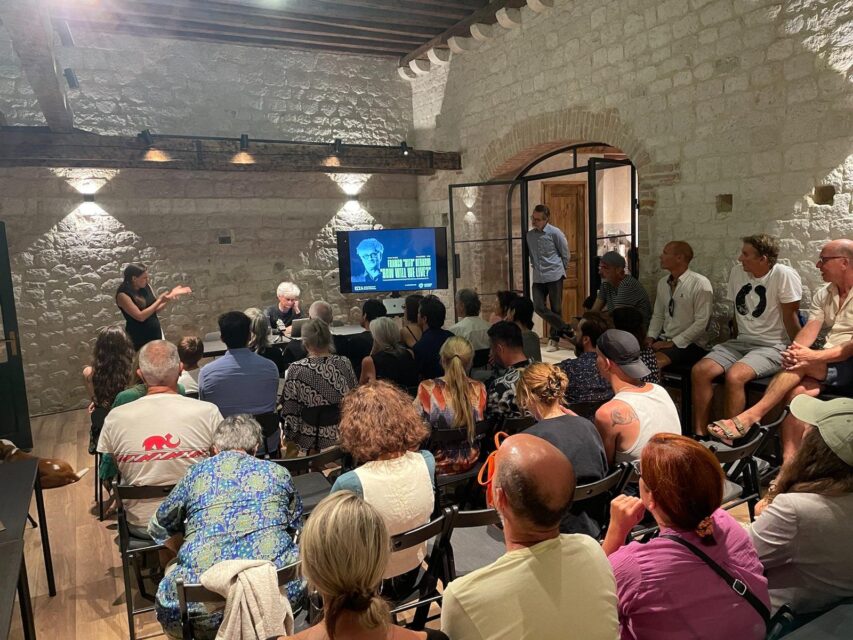 Day 3
School on the Beach
We gathered at the beach where the famous movie "Roko and Cicibela" was filmed and the street where the antifascist Nikola Marinković-Top was killed (in red colour thanks to "Komiža Light Festival"). Actors and actresses were reading poetry by Ivan Goran Kovačić, Bertolt Brecht, Vesna Parun, Marko Pogačar, Vladimir Mayakovsky, Constantine P. Cavafy & many others. We had a lecture on the beach, food & music, and a large audience constisting of locals and tourists.
With Franco "Bifo" Berardi, Srećko Horvat, Maša-Ljotić Plichta, Morski, Milivoj Beader, Jovana Stojiljković, Goran Bogdan, Luka Nižetić, Pepe Kalafot, Saša Skenderija, Joško Božanić, Stephanie Krueger, and many others.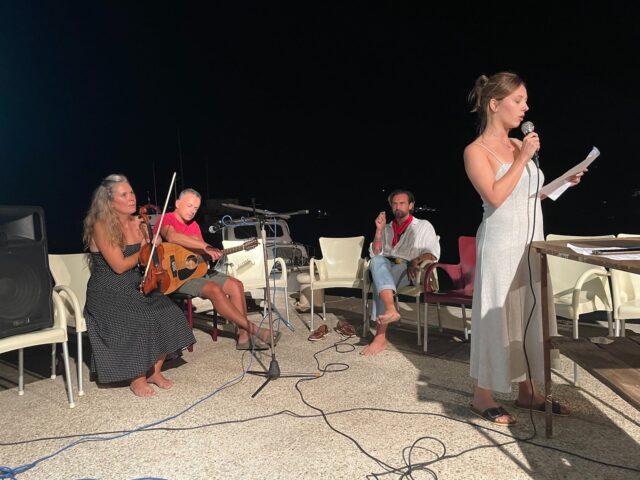 Day 4
School on the Hill
coming…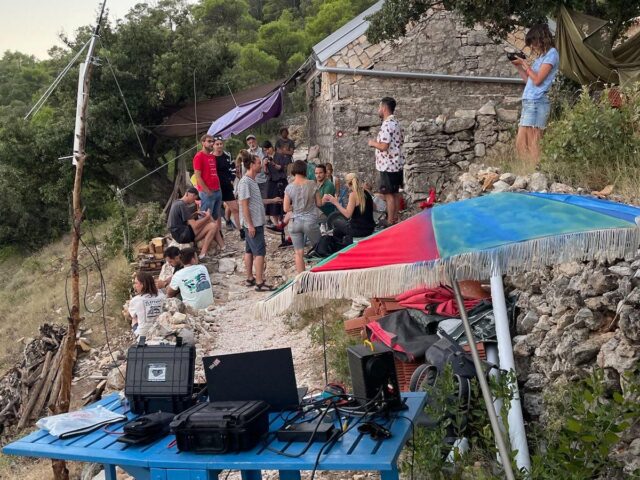 Media Coverage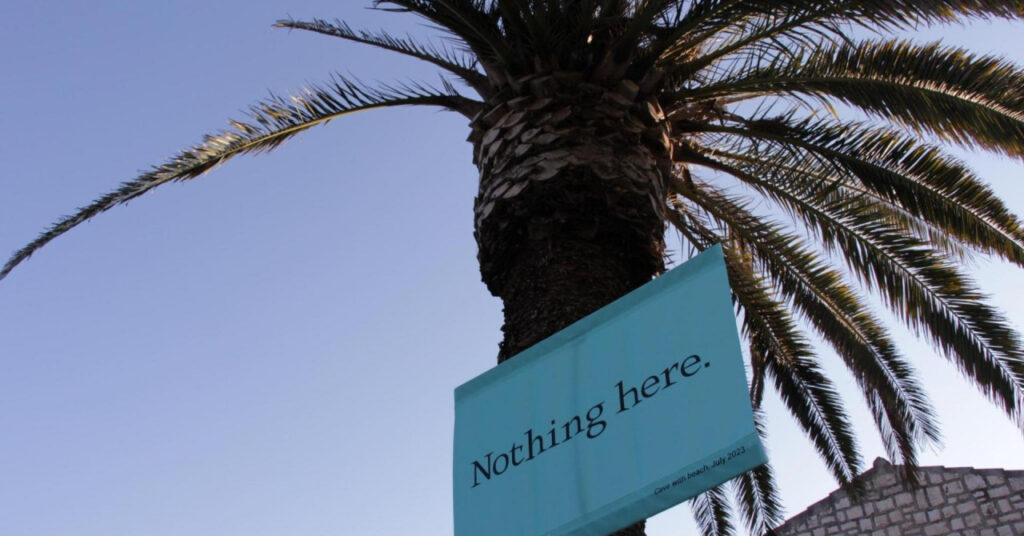 Source: Lana Ribarić, jutarnji.h
How much can we trust online reviews: 'The beach on Vis got one star because it is too quiet'
"Don't go there. Go to Hvar" was one of the banners that islanders and tourists could see in various places on Vis on Friday. And while some thought it was some kind of protest, the banner holders had a completely different goal in mind. To highlight the potential problems caused by negative reviews on Google and Trip Advisor, an art collective called !Mediengruppe Bitnik from the School of Autonomy (Island School of Social Autonomy-ISSA was co-founded by Srećko Horvat, Goran Bogdan, Nadežda Čačinović and many others) in cooperation with artists and researchers Selena Savić and Gordan Savičić organised a "1 star" tour, that is, a tour on Google and Trip Advisor of poorly rated places in Vis. […]"
Educational experiments on two very different islands
Last weekend, on Vis, a small Croatian island in the Adriatic Sea, Italian philosopher Franco Berardi helped inaugurate the Island School of Social Autonomy with a lecture titled "How Will We Live?" I've been following along as the school's co-founders painstakingly renovate an old stone house in the hills above Komiža and reading with interest as they publish essays that cite many of the culture and education critics I most admire. I'm also intrigued because its list of cofounders includes not only philosophers, theorists, artists, and poets, but also actor-activists like Gael García Bernal and Pamela Anderson. That kind of support—both in visibility and funding—can give experiments like this one the momentum it needs to stay afloat […]"