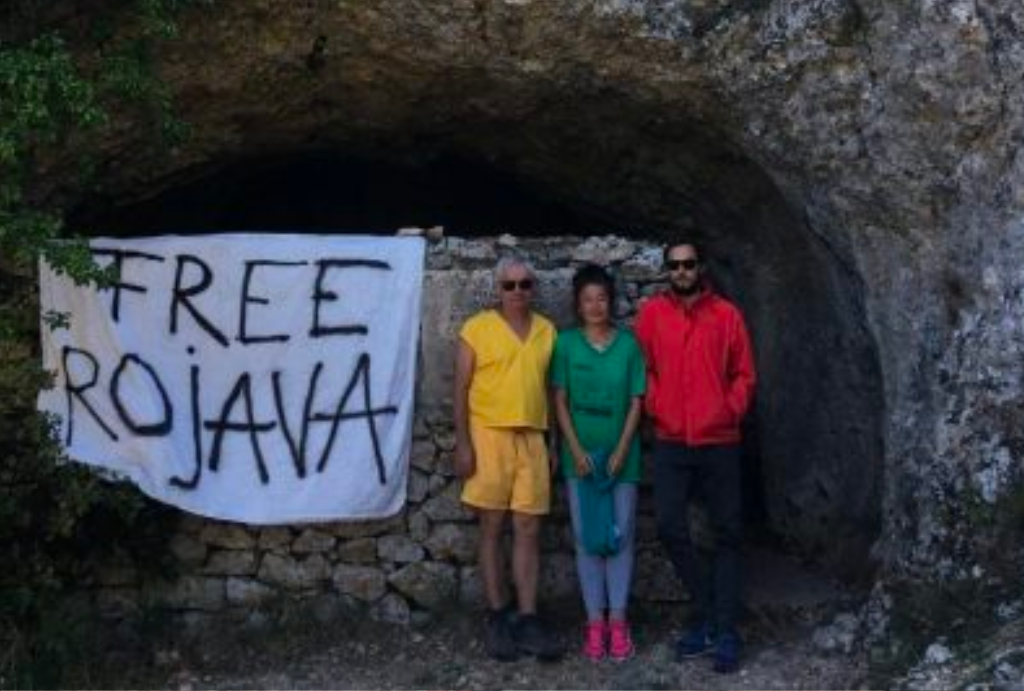 Even before ISSA was founded – interestingly enough, the School is now located nearby – we have been visiting Tito's Cave.
There is a famous Kurdish proverb saying "NO FRIENDS BUT THE MOUNTAINS" that has also reverberated in the hills of Vis.
Back in October 2019, on the Global Day of Action against Turkey's occupation of Rojava, filmmaker and artist Hito Steyerl, the first woman to have been listed as the "most influential personality in the international art world", was joined by philosophers Boris Buden and Srećko Horvat for an action of solidarity.
The two caves, hidden far from the mainland in the hills of the island of Vis, carry historic significance. Not only is it the place from which the partisan resistance movement managed to defeat a seemingly much more powerful enemy during World War II, but it is also the place from which they, so to speak, broke out of the mountains, liberated the territory of Yugoslavia from occupation, and finally established a new state.
A rare BBC recording from 1944, when the Partisans were using Vis as their headquarters, describes this resistance:
"Across the Adriatic Sea, throughout the once carefree hunting grounds for rich yachts along the Dalmatian coast and in the wild picturesque heights of Yugoslavia, one of the most heroic battles of this war is in progress today . . . These people know what they are fighting for. They have absolute faith that they are right and in their ultimate fate. And it is a great and unique experience in this world of cynicism and divided loyalty to be among them and to be able to help them."